This lasagna was fantastic. And by fantastic, I mean out-of-this-kitchen, eat-three-times-a-day amazing.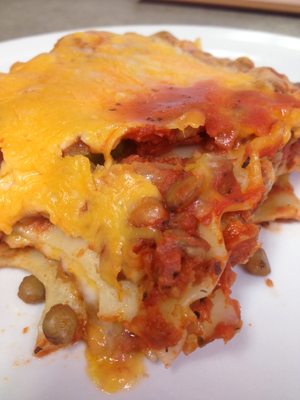 Ingredients
1 cup dry USA lentils, rinsed
2 1/4 cups water
1 1/4 teaspoons fennel seeds
1 teaspoon salt
8 ounces lasagna noodles
2 cups chopped onion
3 large cloves garlic, minced (about 1 tablespoon)
2 tablespoons olive oil
2 medium zucchini, sliced
2 15-ounce cans tomato sauce
1/8 teaspoon sugar
1 teaspoon dried basil leaves, crushed
1 1/2 cups shredded mozzarella cheese
Directions
In a medium saucepan, combine lentils, water, fennel seeds and salt. Bring to a boil; reduce heat, cover and simmer 30-40 minutes, or until lentils are very tender and almost all the liquid is absorbed. Set aside.
Meanwhile, cook lasagna noodles according to package directions. Drain noodles and rinse with cold water.
Mix lentils with tomato sauce, sugar and basil.
In a large skillet over medium-high heat, cook onions and garlic in 1 1/2 tablespoons oil until they are tender, about 5-7 minutes. Turn onions into a bowl and set aside. Add remaining 1/2 tablespoon oil and zucchini to skillet and cook, stirring, until zucchini is just tender, about 8 minutes.
Preheat oven to 350 degrees. Lightly oil a 13″x9″ baking pan.
Arrange half the lasagna noodles over bottom of baking pan. Arrange zucchini slices evenly over noodles, then spread half the lentils over the zucchini and half the cheese over the lentils. Top with remaining noodles, then with onions and finally with remaining lentil mixture.
Bake, covered, for 30 minutes or until heated through. Five minutes before lasagna is done, uncover it and sprinkle on remaining cheese. Continue baking until cheese melts.
A Few Modifications
I didn't have fennel seeds on hand so I skipped them. I threw my onions in with my lentil-tomato concoction, and there was plenty of cheese on my lasagna already so I skipped the final cheese addition the recipe called for.
I'm not one to rave over recipes very often. This one? I even had it for breakfast, it was that good.
Like this recipe? It's in the Pea & Lentil Cookbook along with 150 other great recipes.